Midweek Musings
A dream, some fragments, and images of holy places
[The Writer's Paradise]
I went out recently to do some sprints on a frigid day (around 25 degrees when I left the house).
The sun was shining brilliantly. As I ran, the icy air clawed maliciously at my face, while the sun's radiation surreptitiously invaded my cells and set about the devious work of disrupting the organized life of their reproduction.
And yet both the chill and the rays of light cheered me, energized me to the task at hand, set me to singing, nose running and cheeks reddened, as I ran back and forth across a field of frost-whitened grass.
The star that vaporizes everything that comes near and can provoke your death even from a distance so great it takes the light that gives you cancer, which is traveling at almost 200,000 miles/second, a full eight minutes to make the journey from point of origin to your skin. The dark corner of a solar system where no light penetrates and all lies frozen and dead, forever immobile and funereal.
We are an infinitely delicate balancing act between two exterminating polar forces, deftly maneuvering to maintain our position safely distant from but also within the figurative arm's reach of both that is required for continued existence.
The German word "gift" (from the same root from which we get our identical word) means "poison." (Derrida somewhere says something pithy about this, but I cannot be bothered to go out into the cold again and to my office to hunt it down).
---
In a Chinese creation myth, the first humans are understood to be descended from the fleas and lice that dropped off the body of Pangu, the primordial being.
You can without too much difficulty understand how a state that treats human individuals as the current regime in China does is possible given such a cultural background.
---
The mirth produced in me as I read the voluminous accounts of media pants-wetting over what Elon Musk is doing with Twitter would require a few dozen cargo ships to hold it.
Black Twitter may not survive!
The EU, which is embarked on a project to define all nationalist discourse as "hate speech," threatens action unless Musk beefs up security, i.e., does just what the EU says!
Also, Twitter has banned the account that was monitoring Musk's private plane's whereabouts, which is simply intolerable because we have a right to know such things or else our democracy is over, friends and fellow lovers of democracy!
In all frankness, I don't much care if Twitter folds tomorrow, but I freely admit that I would be pleased if this delicious supply of Schadenfreude continues at least for a little while longer.
And I hope someday to be a better person…
---
As I prepared to get off the train at the approaching stop, a blind woman rose and asked me the name of the station.  I told her.  She thanked me and then, when the doors opened, strode out with absolute fearlessness onto the platform. 
I followed her. 
What else could one do but try to emulate such a model?  The tremendous courage, the bountiful trust in so much that is outside us, that wholly eludes our reason, that is necessary just to live. 
We forget.
---
Ludwig Wittgenstein, at his dissertation defense (this was long after he'd written the Tractatus, when he was already acknowledged as a genius, but had chosen for many years to keep his distance from the field of academic philosophy), clapping his perplexed teachers (including Bertrand Russell) on the back consolingly and cheerfully telling them: "Don't worry, I know you'll never understand!"
Also Wittgenstein: In shorts and sloppy dress at the youth hostel which had become the housing place for a philosopher's convention, being told by a distinguished professor of philosophy who didn't know him and condescendingly assumed from his appearance he must be in the wrong place: "I'm afraid that a meeting of philosophers is taking place here." To which Wittgenstein replied gravely: "Yes, I am too."
Here is a philosopher worth the title.
---
A Dream of Falling
He dreamt a long and strange dream, which, as they always do when they are long and strange, ended just before he awoke with a start, and so he remembered it in intimate detail.
In the dream, he was at an amusement park of some kind. He had changed into a pair of swimming trunks just prior to heading up a series of labyrinthian stairs and pathways that led to the top of a mountain. The room into which he had entered at the end of the long journey was perched on a cliff overhanging a valley far below. He had the opportunity, as he approached the room, to look down in a focused manner at the valley below, to gauge precisely how far away it was. Even before he entered the room, he had begun to tremble and sweat, as a wild acrophobia was perhaps the most primordial of all his many psychic fears and trepidations.
Someone at the top in a uniform, who did not enter the room with him, explained that after he had entered the room, in a moment or two, a hatch would open to send him plummeting down toward a faint blue dot in the valley. That, he said, was the lake toward which he should aim. It was deep enough, he was told, to make for a safe if exciting landing, and he would be given some small hand-held device to enable him to effectively steer himself in the air as he fell.
The man gave the clear impression that it was only a matter of probability, not certainty, that he would land in the lake, and that if he did not, there was nothing that could be done for him. It seemed a shockingly naked admission that he might well die as a result of this venture, but the uniformed man gave not the least indication that this consideration troubled him.
As he entered the room, the thought of changing course, telling the man at the entrance that he had changed his mind and would not be participating, quickly flashed through his mind, but in the instant during which he was considering it, the door closed behind him and he heard the unmistakable clank of a bolt and a lock.
It was dark inside the room, but his eyes began to accustom themselves to it sufficiently to make out the contours of the space. With a start, he realized someone else was in the room with him. The person was softly weeping, and from the sound he could tell it was a young woman. He thought of speaking to her, to try to reassure her, but before he could there was a jolt, and the entire room turned over, shaking them down to the ceiling in a rough tumble.
Abruptly, a panel inside the room slide away to reveal a small window, and a glance outside revealed what they could already tell from their inner ear system of balance. The whole room in which they found themselves had dismounted from the ledge on which it had been perched, in some dreadful accident or perhaps a sinister plot on the part of the uniformed man, and it was plunging downward through space at an astonishing, stomach-churning rate of speed.
During this at once interminable and incredibly brief plunge, he was filled with the certain impression that he would be killed when they reached bottom, yet at the same time he somehow held out hope he might survive. How sturdy were the walls of the room in which they were plummeting? He did not know. Perhaps strong enough to withstand the impact? He experienced powerful and contradictory emotions. He pleaded with God for his survival, and he reconciled himself to the inevitability of his own death, one after the other, and both at once.
This confused uncertainty was fueled all the more by the presence of the young woman, who remained utterly silent throughout the ordeal except for her low sobbing. She was undoubtedly terror-stricken, and he wanted to do something to comfort her. He felt himself utterly humanly inadequate for failing to do so, but he nonetheless could not muster the strength to speak. She was a dark audience for the existential dilemma of the moment.
Finally, with a furious effort, he chose to reconcile himself with the worst, to accept the instant death that was fast approaching from the ground below. He uttered a few whispered words of remorse, of sad acknowledgment of the failure of his life, of his wickedness and his inability to change. He shouted the word "God" several times, and the very enunciation was different than any of the many previous times he had uttered that word when he knew that seconds after uttering it he would still be drawing breath. He braced himself, already fully separated from his former attachment to this world, which he has watched fall away behind him as almost a physical thing.
But there was no impact.
They did not strike the earth in the expected catastrophic blow. Stunned, they learned, once the door to the room opened back up and the same man who had let them in led them out with a wide grin on his face, that the whole thing had been but a simulated disaster.
The room had not dismounted, they had not plummeted to earth, but only believed all this because of the ingenious totality of the simulation. This was the ride.
He was heart-broken—that was the only word to describe it—at this news, having prepared for and actually embraced his own death, intimately and unreservedly, and then having to re-enter the realm of the living, all at a stroke.
He staggered out of the room and back into the world, blinking again and again, his eyes tearing in disbelief and anger. Yes, anger, at having finally, agonizingly made the leap into the impossible ground of acceptance of his own end, only to have this miraculous and heroic accomplishment stolen away from him by the most brazen trick.
At that instant, he awoke.
---
A few images of places of worship in Morelia, Mexico, my wife's place of birth, taken during a perfect day's walk along one of the main thoroughfares of the city this past summer. Wondrous monuments to the faith of the Mexican people.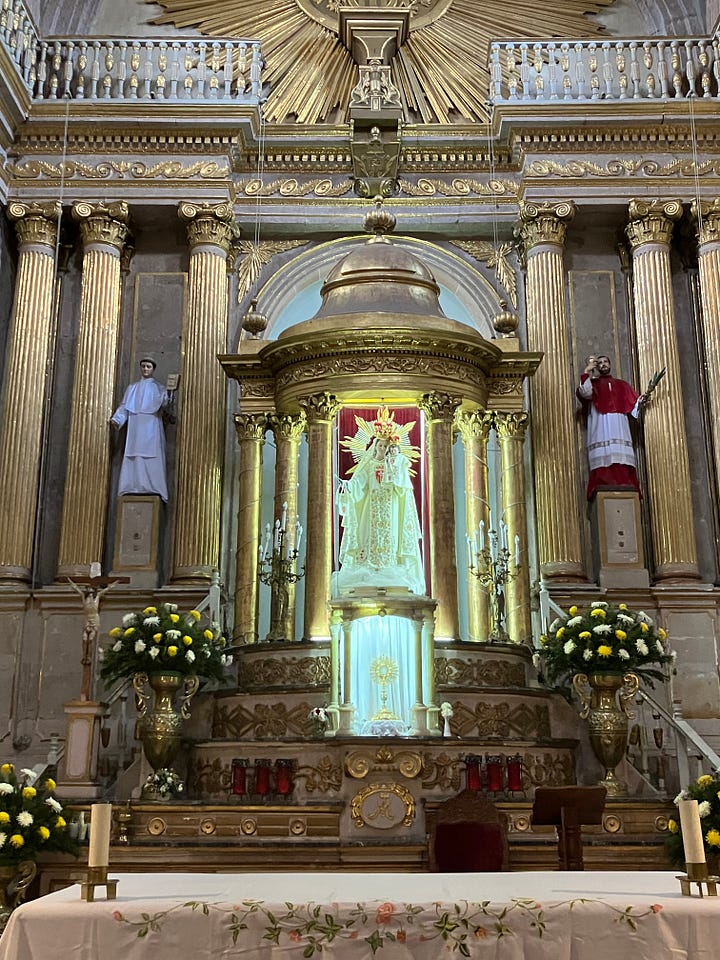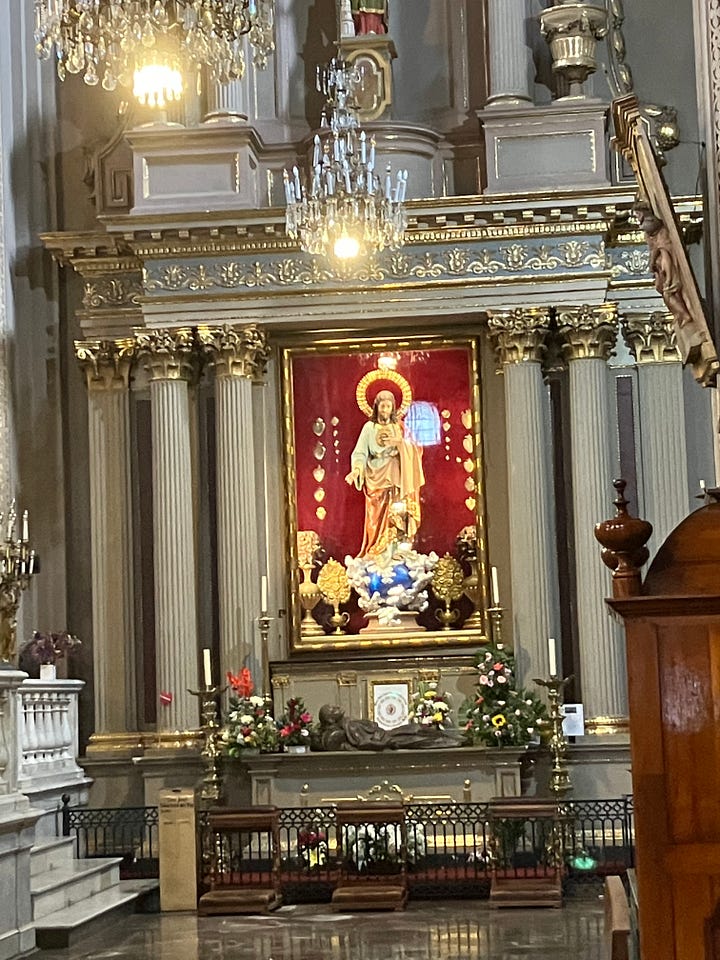 [Temple of Saint Francis of Assisi]
[Temple of the Nuns]
[Rectory of Our Lady of Lourdes]
---
Hi all,
I've been at this project now for nearly a year. Hardly seems possible, but I just checked the calendar and I believe that is the right math.
So, this is a note to you: Thank you.
I'm tremendously flattered by your interest in what I have to say about life, art, politics, death and I'm grateful that you read my ramblings. Every writer desires to be read (Lovecraft's letter accompanying his submission to an editor notwithstanding) and thus owes a debt that cannot really be repaid to readers, however much the writer sometimes pretends not to recognize this (it's part of the persona, you see…).
So that's something I want to be sure to say and say again: THANK YOU.
Now, the other reason for this little note.
I finally got around to doing the technical stuff necessary to provide a paid subscription option.
What does a paid option mean?
It means it's an option. At present, everything on this account remains open to all subscribers, paid or free. Even if I move at some currently unforeseen point to separating material here into paid and unpaid categories, I still plan to always make the great bulk of it available when it's produced without cost to everyone interested in seeing it. I'm tremendously appreciative that you read this site and want to do everything I can to ensure you continue to be interested in doing so.
I am hopeful though, and I make so bold as to ask, that if you have a few extra dollars rattling around, you'll consider kicking some of them my way to help make it more feasible for me to spend more time on this project.
Inevitably, and despite my deepest feelings about writing, I think at least a bit about possible material returns when I am allocating time to writing projects. I have two kids who eat and are in constant need of new clothes and a house in which things are constantly breaking down. Add to that the fact that, to my great regret, I do not have infinite time to dedicate to writing, and it emerges necessarily that sometimes the possibility of writing things for pay trumps writing things here. This is so even though I much prefer writing here precisely because it allows me more freedom to engage with the topics I find most interesting.
If I can generate some paid subscriptions, then, I can spend more time doing this writing, the writing I most care about, and the writing that I hope you find valuable. If I generate enough, I may even finally find enough time and energy to get around to dipping my toes into Podcast World, which is professionally speaking probably the last thing I should do, given my tendency to say things that get me into trouble, but YOLO, as I've heard they say.
I hope you'll consider a paid subscription and, whatever your decision on that, I look forward to writing more for you as All Things Rhapsodical Phase II gets underway. Should you decide to "go paid," you need only click the button below and it should lead you in the right direction.
Cheers, and thanks again! And very special thanks to those who have already switched to a paid subscription!
ATR